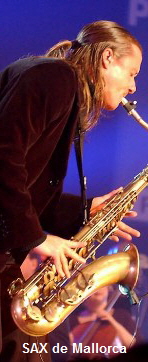 Norbert Fimpel

On his soloist show, Norbert Fimpel plays the saxophone and the harmonica, accompanied by brilliant playbacks. His repertoire includes a great variety of music styles, like boleros, tangos, jazz, chill out, lounge music, movies music and songs belonging to artists like Whitney Houston, Mariah Carey, Toni Braxton, Billy Joel, Elton John, Sting, Jose Feliciano, Alejandro Sanz, Frank Sinatra, Luis Miguel, Alejandro Lerner, Air Supply, Michael Jackson, Kenny G, Phil Collins, Julio Iglesias, Roberta Flack, Natalie Cole, Stephen Bishop, Stevie Wonder, Queen, Bee Gees, Dire Straits, Rod Stewart, Eric Clapton, Michael Bolton, among many others.

Since it's very calm and smooth music, his show is ideal for wedding receptions and events.
The audience can listen to his songs and at the same time make conversation during an elegant dinner.

Despite from his solo show can also be booked with DEEJAY DELUXE together with event DJ Marcos and singer DANIYELLA.
Their reperoire during this full night shows contains Jazz, Lounge, Dance-Music and international hits.