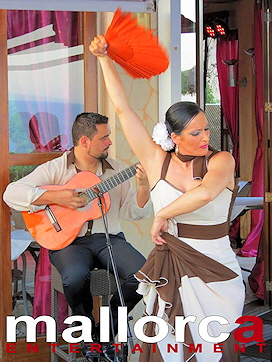 CortÚs Flamenco-Show


Flamenco in Mallorca.

Flamenco in Mallorca. The flamenco show for exclusive weddings and events on Mallorca:

The Spanish guitarist and singer Alberto Cortes has the flamenco in the blood. Even as a child he learned in his native Andalusia Flamenco guitar. He has flamenco in its purest form as a soloist, in a duo or with a dance formation.

The Cortes Flamenco show consists of a Spanish singer/guitarist, either to one Caja player, and three or four flamenco dancers in traditional colorful costumes. Spanish sounds entertaining at a high level and the highest degree.

Cortes and his dancers are former students of flamenco spain well-known flamenco dancer La Carmeta. Alberto Cortes performance as flamenco guitarist already on the renowned flamenco festival in Jerez (Andalusia) and Madrid. In Beijing and Tokyo inspired the Spanish flamenco guitarist the audience:

We will make you an individual offer.